IN FALL 2008, MARSHALL ULRICH COMPLETED the mind-bending and body-breaking equivalent of 117 back-to-back marathons as he ran an average of more than 400 miles a week, and climbed 84,430 feet, in temperatures ranging from below freezing to the upper 90s. He crossed 3,063.2 miles and 12 states on foot from California to New York.
Yet his memoir, Running on Empty, is about more than this one contest, a single sport, or an individual athlete:
This deeply personal story explains what drives the extreme athlete, what compels the endurance kings and queens to keep going no matter what.
The book reveals unexpected rewards and intense competition, exploring the effects of rivalry, trash-talking, and an uncompromising will to win.
It spotlights the history of ultrarunning, showing how this elite sport lays claim to a nearly unmatched egalitarian past.
Running on Empty pays a surprising tribute to the power of friendship and love, which turn out to be even more important than self-reliance when you

'

re serious about endurance.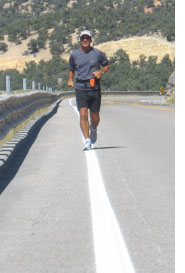 This is also about defying the age barrier. It wasn't until his thirties, after a devastating personal loss, that Marshall discovered his talent for ultrarunning. In his forties, he became an innovator in the sport and then diversified by adventure racing. As he entered his fifties, Trail Runner magazine called him one of the legends of the trail, Outside crowned him "Endurance King," and Adventure Sports highlighted him as an athlete "Over Fifty and Kicking Your Butt." Then he started climbing mountains and went up all Seven Summits, including Mount Everest, in his fifties.
And then, at age 57, Marshall Ulrich made an attempt on a world record set by a 28 year old. Ultimately, he set two trancontinental speed records of his own.
Drawing on these and other extreme life experiences, the message of the book and the metaphor of the run are universal, whether you're an athlete or not. It's about facing forward and taking the next step, not flinching when the road gets rough or you miss a turn, and finding another way when the bridge you planned to cross has collapsed. It's about doing what you say you'll do and not letting anything or anyone stop your progress. Ultimately, it's about facing the toughest challenges, enduring crushing setbacks, and finding fulfillment in something greater than achievement.