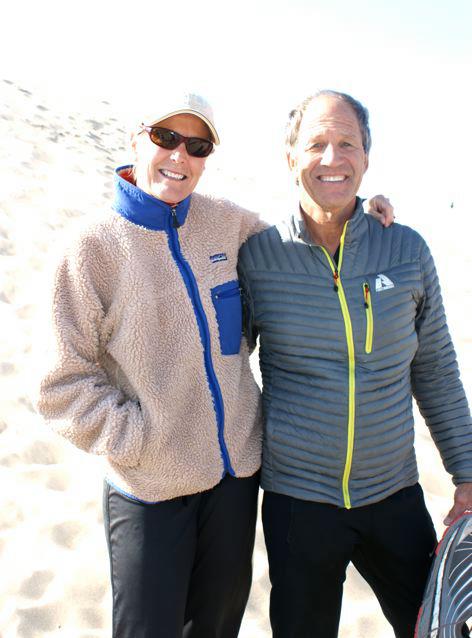 Fall 2013 Running Camp
Coaching from Marsh and Lisa Smith-Batchen (pictured right), Ray Zahab, and Julie Bryan
9/28-10/3 | Grand Tetons, Dreamchasers Training Camp
Get guidance and advice, whether you're a beginning runner or experienced ultrarunner, in an intimate setting -- limited to 20 participants. Pricing, registration, and more detailed information is available at dreamchaserevents.com/Camps/2013-Fall-Running-Camp.
Who Should Attend
If you answer yes to any of these questions:
Do you want to run your first 5K, 10K, half-marathon or marathon?

Do you want to bridge the gap and go from a marathon run your first ultra?

Have you run an ultramarathon and want to learn to run smarter and stronger?

Do you want to learn more about running stage races?
... then YOU should train with us. We welcome all runners, whether you have just started running or if you are an experienced ultrarunner, Marshall, Ray and Lisa will teach you what you need to know!
What You Will Do, Experience, and Learn
Whatever your goals, our running camps have something for you!
We'll teach you using:
Training runs

Videotaping for gait analysis

Cross training sessions

Classroom sessions

Formal Q & A

Informal discussions

Other camp participants (everyone has knowledge to share!)
You'll learn how to:
Improve your running style through gait analysis and video taping

Hydrate and fuel yourself for training, racing, and recovery

Train for the heat of desert racing

Prepare for road, mountain, trail, or stage races

Train and run on trails

Train for mountain running, including handling
altitude and cold

Power walk effectively to improve your race results

Use cross training techniques such as core strengthening and deep water running

Overcome obstacles through troubleshooting

Take care of your body and feet, including clothing and equipment selection

Prepare and work with pacers and crew

Maintain a balance a in your life. (No…it's not all about the running.)
New and exciting -- and something you won't get at other camps -- you'll learn about some of the latest and greatest techniques and technologies, including how to:
Use high tech equipment in racing

Use the Internet and other services to share your accomplishments with others

Build a platform for sponsorship

Engage others in your fundraising events
Your Hosts and Trainers
Marshall Ulrich, Ray Zahab, and Lisa Smith-Batchen are ultra running legends ... and just regular folks. Now you have the extraordinary opportunity to learn from their experiences.
Meet Ray Zahab
Until late 1998, Ray was a sedentary smoker. Since then he has proven that the impossible is in fact possible by running across the Sahara and setting a Guinness World Record on foot to the South Pole.
The founder of impossible2Possible (i2P), has won numerous international ultra marathons of distances from 100 to over 200 miles in length in some of the harshest conditions on the globe. In 2007 he and two other runners ran 4,600 miles across the Sahara Desert in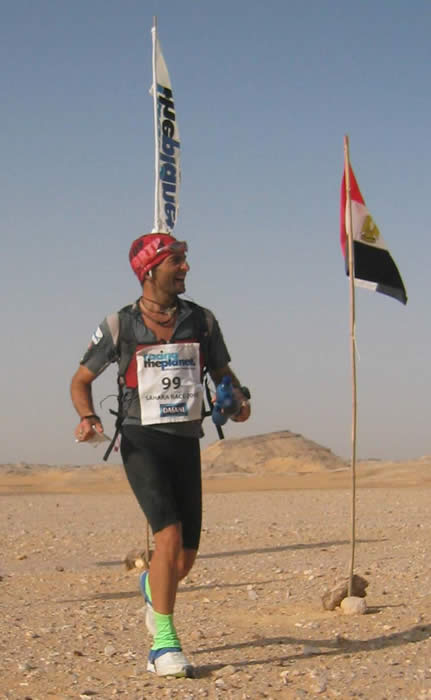 111 consecutive days bringing awareness to the water crisis in Africa. The documentary about the crossing, Running the Sahara, was directed by Oscar winner James Moll and narrated by Matt Damon. Ray was recently a member of the i2P South Pole Quest team, a record-setting crossing of the continent to the south pole.
Ray is an established ultra marathoner who uses his athletic career to support initiatives and causes he believes in. Ray is official Athletic Ambassador and board member for the ONEXONE organization and is a board member of the Ryan's Well Foundation. In addition to his running adventures, Ray speaks around the world spreading the message that we all have the ability to achieve anything we set our minds to and, in fact, the impossible is possible.
Through the years, both Marshall and Ray have learned that the real successes in life come when you do for others. They find great joy in teaching others and sharing their life and training, running, and racing experiences with people like you. Both are also dedicated philanthropists and will share ideas with you about how you can run for a reason. They will also share ideas about how you can run with the least amount of impact on the earth.
Meet Lisa Smith-Batchen
Lisa is a world reknown elite ultra runner, ironman competitor and adventure racer. She is a woman of many "firsts." She is still the ONLY American to win the Marathon des Sables stage race through the Moroccan desert and has twice won the Badwater Ultramarathon, considered one of the toughest races in the world. She is also the first and only person to ever have run 50 miles a day in 50 states in the USA in 62 days!
Lisa is also a proven coach and motivator whose knowledge of health, fitness and nutrition has helped hundreds of individuals achieve their specific goals. She and her husband, Jay Batchen, are the heart of Dreamchasers Outdoor Adventures.
Future Camps
Marshall will offer additional training camps to help you put your Dreams in Action. These will include a camp focused on families and one for people 40 years old and beyond. Also watch for one in the Colorado mountains focused on winter and mountaineering skills.
Marshall also offers corporate retreats/camps under special contract. Contact us for more information.